Express Your Measurement Uncertainties with Unlimited Flexibility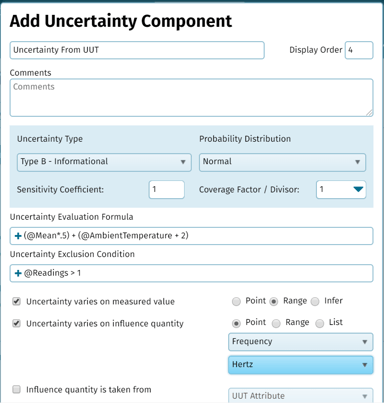 Create complex uncertainty budgets with ease!
Users can now use formula evaluation to configure complex uncertainty budget component calculation scenarios (i.e. some calculations involve more than one measurement parameter or possess conditional logic). Uncertainty budget formulas can use the following operators and variables:
Mathematical operators
Math functions
Exclusion condition operators
Variables

Measurement Point
Different Measurement Point
Environment Factor
UUT Attribute
Tool Attribute
Custom Fields
Click here to view all of the features.
See for yourself! Fill out the form to schedule a free training customized for your specific calibration and asset management needs, or give us a call at 858-224-0881.