Seamlessly Integrate with MET/CAL® Automation via MET/CONNECT™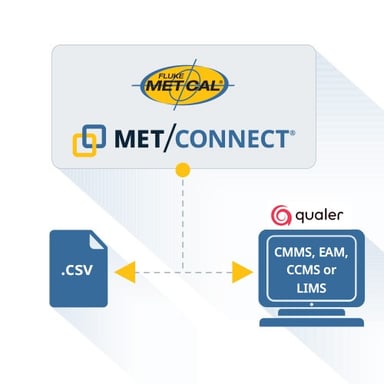 Qualer now supports Fluke Calibration MET/CAL®
Calling all progressive companies: Qualer is the premier asset, maintenance and calibration management system providing a pre-configured, business-in-a-box, best in class, software solutions for companies just like you. Qualer's partnership with Fluke Calibration and MET/CONNECT™ provides a seamless way to integrate the two platforms and bring the benefits of automated calibration into the Qualer platform.
Qualer and MET/CAL® can now be connected through Fluke Calibration's MET/CONNECT™ integration app. This enables labs to leverage the power of MET/CAL® procedures and provide the results seamlessly to Qualer as their system of record.
Click here to view all of the features.
See for yourself! Fill out the form to schedule a free training customized for your specific calibration and asset management needs, or give us a call at 858-224-0881.